COAT – Hello! 蒼空 2nd Season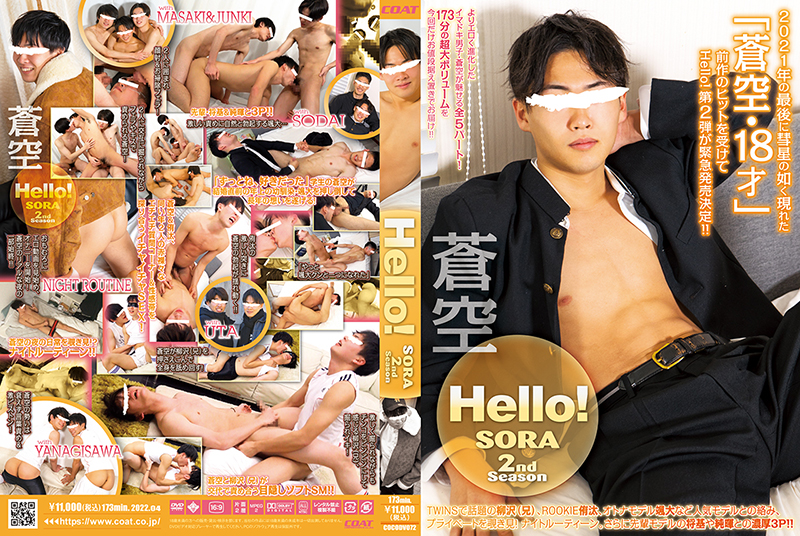 Release Date : 2022/04/08
Super large volume of 173 minutes! Super rookie eighteen SOLA comes back!
5 evolved more erotic episodes of up-to-date young boy SOLA!
1. Blindfold softy SM where SORA and YANAGISAWA (elder brother) take turns blaming each other !! ANAGISAWA (elder brother) cums while fucked, takes facial -shot and serves cleaning-job.
2. SORA and UTA, two bare-naked question corners of the same age & flirting SEX exploring the erogenous zone! SORA cums while fukded, and ckeaning-job eath other!
3. Let's peep into the night life of SORA. Hot and real night routine at his own home.
4. Short love and sex drama with SOTA.
A student SORA pushes down his older childhood friend SOTA, who is about to get married, to fulfill his longtime love! SOTA cums while fucked and SOTA cums while fucking.SORA even kisses SOTA on the cheek with his own sperm soaked lips!
5. Threesome with MASAKI and JUPEI. SORA cums while fucked and serves facial shot and cleaning job surrounded by two guys.
2021年の最後に彗星の如く現れた「蒼空・18才」、前作のヒットを受けてHello!第2弾が緊急発売決定!!
TWINSで話題の柳沢(兄)、ROOKIE侑汰、オトナモデル颯大など人気モデルとの絡み、プライベートを覗き見! ナイトルーティーン。
さらに先輩モデルの将基や純暉との濃厚3P!!
よりエロく進化したイマドキ男子・蒼空が魅せる全5パート!
173分の超大ボリュームを今回だけお値段据え置きでお届け!!
1. 蒼空と柳沢(兄)が交代で責め合う目隠しソフトSM!!
濃厚フェラに身体をビクつかせる蒼空! 次は蒼空が柳沢(兄)を押さえこんで全身を舐め回す! 乳絞りフェラ、スパンキングケツ舐め、遂には蒼空が柳沢(兄)を犯す!! 激しく掘られながらもチンコをビンビンにして感じる柳沢(兄)、掘られイキ! 蒼空の勢いは衰えず言葉責め&激ピストン! 柳沢(兄)に顔射&お掃除フェラをさせる!!
2. 蒼空&侑汰、同い年2人の赤裸々なエチエチ質問コーナー&性感帯を探り合うイチャイチャSEX!
耳舐め、乳首責め、おもちゃを使って悪戯っぽく責める侑汰と、全身を慈しむように責める蒼空! 互いに感じて身体をビクつかせるケツ舐め&69! 侑汰の勃起に跨る蒼空! 侑汰の激しい突きに蒼空の勃起が揺れ動く!! 2人のイチャイチャは最高潮に! 蒼空、掘られイキ! 侑汰、蒼空に大量顔射!! 相互お掃除フェラも!
3. 蒼空の夜の日常を覗き見!? ナイトルーティーン!!
寝る前のわずかな時間に自宅で寛ぐ蒼空。おもむろにエロ動画を見始め、オナニーを開始! 動画に没頭しながらチンコを扱くと次第にギンギンに! 足の指をくねらせながら感じる! 興奮が高まった蒼空はケツ筋をピクつかせながら射精!! 蒼空のリアルな夜の一部始終!!
4. 「ずっとね、好きだった」学生の蒼空が結婚直前の年上の幼馴染・颯大を押し倒して長年の想いを遂げる!
颯大の身体を貪るように乳首舐めやフェラ、颯大に覆いかぶさりイラマチオ! 「やっと颯大クンと一つになれた」 颯大へ挿入し、一心不乱に腰を振る蒼空! 激しい責めに自然と勃起する颯大…掘られイキ! 気持ちの昂りは最終局面へ…蒼空、掘りイキ! 蒼空が自分の精子をつけた唇で颯大の頬にキスも!
5. 先輩・将基&純暉と3P!!
過去の撮影を振り返ってトーク! その内容から弱点を把握した2人が蒼空を責める!! 3人同時キス、先輩2人がかりでのフェラ、蒼空が先輩2人を交互にフェラやトライアングルフェラも! 2人に交互に掘られながらフェラやキスで責められる蒼空! 感じながらもキス&フェラで応戦! 2人の濃厚な責めに蒼空掘られイキ! 最後は2人に囲まれ顔射&お掃除フェラ!
Link1. Nitroflare:
Link2. UploadGIG:
(Visited 7,203 times, 53 visits today)